Private Project Finalists Announced: Excellence in GSI Awards
Posted on: March 10, 2016

Congratulations to our four finalists for the Private Projects Category of the 2016 Excellence in GSI Awards Ceremony!
Finalists in the remaining three categories will be announced in the coming weeks:
Early Adopters
Research
Leadership
Public Project Finalists were announced last week.
CIRA GREEN
Cira Green is Philadelphia's first elevated public park and first blue-green roof.  As such, it's more than just an amenity for the adjacent Evo Tower and the soon to be completed FMC Tower; it is an integral element of the developing Schuylkill River greenway.
Cira's innovative blue-green roof provides a higher level of stormwater performance than conventional green roofs. The fusion of intensive green roofs, permeable paving, and "pancake cisterns" results in a hydrologically integrated site that manages the first two inches of rainfall.  Its topography engages visitors, offering both passive and active recreation space.
LOCATION:  2930 Chestnut Street, Philadelphia, PA
CLIENT: Brandywine Realty Trust
PLANNING/DESIGN TEAM: Erdy McHenry Architecture, Pennoni, Roofmeadow, and Tim Haahs & Associates
CONSTRUCTION TEAM: EDA Associates, Hunter Roberts Construction Group, Sean's Landscaping,
MAINTENANCE TEAM: 
Roofmeadow, Sean's Landscaping
BETHESDA PRESBYTERIAN CHURCH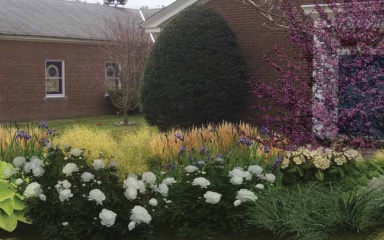 As one of the first faith-based institutions to be awarded a Stormwater Management Incentive Program (SMIP) grant from Philadelphia Water and PIDC, the Bethesda Presbyterian Church stormwater retrofit project represents a low-cost, low-impact, high-performance model which can be replicated in similar sites throughout the city of Philadelphia. This project creates an important first step in enhanced participation and engagement of faith-based institutions across Philadelphia in helping to meet and solve the City's water quality challenges.
The site includes vegetated swales instead of pipes to convey runoff from the site's entire parking area, roof surfaces, and most of the driveways, as well as siting rain gardens in existing green space.
LOCATION: 808 Red Lion Road, Philadelphia, PA
CLIENT: Bethesda Presbyterian Church
PLANNING/DESIGN TEAM: AKRF, CGC Consulting, HAKS Land Surveying
CONSTRUCTION TEAM: S. Veccione and High Quality Builders
MAINTENANCE TEAM: Bethesda Presbyterian Church
MONITORING TEAM: Bethesda Presbyterian Church, Girl Scouts of America, GreenUp
CENTRAL GREEN AT THE NAVY YARD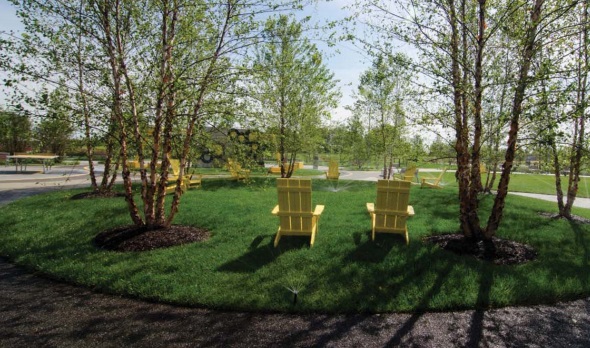 Central Green is a 5-acre privately funded public park, intentionally designed to be an amenity for current and proposed commercial, industrial, and residential tenants of the Navy Yard in Philadelphia, as well as for the Navy Yard's 100,000 annual visitors.
This high-profile project includes a giant bio-retention basin, 41,000 ft2 of porous pavement in lieu of impervious surfaces, and densely landscaped areas, which incorporated the planting of over 300 new native trees, over 10,000 shrubs, and over 13,000 bulbs, many of which are native. Additionally, the park is bordered by sidewalk planters and tree trenches for additional stormwater management.
LOCATION: The Navy Yard, Philadelphia, PA
CLIENT: Liberty Property/Synterra, PIDC, and the Commonwealth of Pennsylvania
PLANNING/DESIGN TEAM: 
Environetics, James Corner Field Operations, and Pennoni
CONSTRUCTION TEAM: Bittenbender Construction, LP, C. Caramanico & Sons, Geostructures, Inc., JPC Group, Inc., Larry Weaner Design Associates,
Molly Construction, NovaCrete, and Tim Craul
STROUD WATER RESEARCH CENTER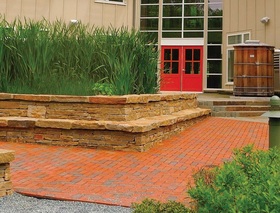 Stroud recently expanded their campus to include the Moorhead Environmental Complex, a new LEED Platinum educational facility. The campus was designed to manage all components of water (stormwater, wastewater, water supply, research water, mechanical systems) as one single water resource, and replicate pre-development hydrologic conditions.
The stormwater BMPs were constructed as a connected system. Rain gardens overflow to an infiltration trench that overflows to additional rain gardens and is eventually dispersed to a restored meadow and woodland. Overflow from the green roof as well as from the standard roof discharges to cisterns for water re-use. Paths are constructed of porous pavers.
LOCATION: 970 Spencer Road Avondale, PA
CLIENT: Stroud Water Research Center
PLANNING/DESIGN TEAM: 
Andropogon Associates, BioHabitats,
Bruce E. Brooks & Associates, Meliora Design, M2 Architecture
CONSTRUCTION TEAM: Nason Construction, ThinkGreen, LLC
MONITORING TEAM: Stroud Water Research Center
Looking forward to seeing you at the ceremony!

2016 Excellence in GSI Awards Ceremony
Thursday March 31 2016, 6:00-9:00pm
WHYY Public Media Commons
150 North 6th Street
Philadelphia, PA 19106
| | |
| --- | --- |
| | THANKS TO OUR GOLD LEVEL SPONSOR |
| | |
| --- | --- |
| | THANKS TO OUR SILVER LEVEL SPONSORS |
| | |
| --- | --- |
| | THANKS TO OUR DIAMOND LEVEL SPONSORS |
Want to see your logo here? Contact us to learn about sponsorship opportunities!